Special Committee of Council Minutes 11 November 2019
6 reports from officers
6.1 Whitehorse Business Week 2019
Presenters: Deborah Shambrook, Assistant Manager Investment & Economic Development
Jacqueline Sgro, Business Marketing Communications Officer
6.1.1 Whitehorse Business Week 2019
SUMMARY
Whitehorse Business Week (WBW) 2019 was launched Thursday 8 August and concluded on Friday 16 August.
The annual program was refreshed providing networking opportunities, an opportunity for the business community to expand their knowledge and gain information on the latest trends.
The program catered for both emerging and established businesses and managers and included collaboration via sponsorship and co - event hosting.
This report presents a summary and the outcomes of Whitehorse Business Week (WBW) 2019.
Special Committee of Council Resolution
Moved by Cr Liu, Seconded by Cr Cutts
That Council:
1. Acknowledges the success of Whitehorse Business Week 2019.
2. Acknowledges and thanks attendees, sponsors, speakers, venues, businesses and organisers of Whitehorse Business Week 2019.
background
Considered as a leading business program in the eastern region of Melbourne, the 2019 Whitehorse Business Week (WBW) was the 19th staging of this annual program. Since its establishment in 2001, WBW has now attracted more than 14,100 participants and has become well recognised as a feature on the annual program of events for business in Victoria.
The purpose of WBW is to provide local and regional businesses with the opportunity to access information and new ways to improve and grow their business, provide information on the future direction of national and international business trends and to take part in networking events.
DISCUSSION
Program
The 19th staging of Whitehorse Business Week (WBW) saw a refreshed program consisting of six events, including collaborations with a number of organisations.
Thursday 8 August - Whitehorse Business Week Launch and Networking
Local business representatives, Councillors, and sponsors were entertained by the energetic Asanti Dance Theatre. The performance encouraged audience participation and engagement resulting in much networking occurring throughout the evening. The Mayor officially launched the new Box Hill Logo that followed with a presentation to the local resident who designed the logo. 2019 was the first year in which the event was open to members of this wider business community, it had previously been invite only.
Monday 12 August – China Insights with Tom Parker
The week commenced with the business lunch; China Insights with Tom Parker. Tom Parker, Partner of Bastion China, shared insights on the importance of WeChat, the rise of sports diplomacy and business relations with China. This business lunch was jointly run with the Australia China Business Council.
Tuesday 13 August – Mainstreet Australia Victorian Conference
The 2019 Victorian conference had a key theme of Localism and social commentator Bernard Salt and leading Placemaker Kylie Legg. Attendees were invited to a walking tour of Box Hill with the Box Hill Activity Centre Manager. With a placemaking and retail focus, the conference added a different perspective to WBW.
Wednesday 14 August – Women in Business Luncheon
The celebration commenced with stand up networking with champagne service. Emma Welsh from "Emma and Tom's" was the keynote presenter at the luncheon and captivated the audience sharing many stories and gave attendees some great insights into how she has achieved success in business and the obstacles which Emma and Tom's has and continue to overcome.
Thursday 15 August – Biz Day
The inaugural staging of Biz Day had a number of offerings for small to medium size businesses. The program included small business mentoring sessions from the Small Business Mentoring Service, a single touch payroll session facilitated by the Australian Taxation Office (ATO) and a government information expo consisting of a range of government organisations. Biz Day was created to cater for the smaller sized and less established businesses in the Whitehorse business community.
Friday 16 August– Digital Strategy and Customer Experience for Business
The final event for WBW19, was a business lunch with keynote speaker Mark Cameron. Mark presented information relevant for small to medium sized businesses and highlighted the importance of doing one thing exceptionally well in the digital space. The lunch also included a brief sponsor presentation that acknowledged Whitehorse Business Week sponsors.
Promotion
WBW 2019 was promoted widely in the lead up to the program of events. Promotional channels and platforms that were used in 2018 were reviewed to ensure best spend of the marketing dollar. 2019 marketing and promotion included:
Digital
· Whitehorse City Council's Investment and Economic Development Unit's website www.wbiz.com.au
· Promotional video from 2018 footage highlighting WBW and used on several digital platforms.
· A series of e-bulletins sent to the Wbiz website database – over 1000 local businesses.
· Promotion through the Victorian Government's Business Victoria Local Events program's social media platforms.
· Radio advertising on 89.9 Light FM.
· A series of paid Facebook advertisements on Whitehorse Business Page.
· Promotion through business groups in conjunction with contra sponsorship (Whitehorse Business Group, Working Mumma, and LightFM).
Print
· Front cover and double-page spread in the Down to Business newsletter, 2nd edition 2019 - distributed to over 4000 businesses in Whitehorse.
· 2 x Media Releases distributed to local news outlets.
· Double page feature spread in the August edition of the Whitehorse News, editorials in the June and July editions, distributed to 60 000 households in the City of Whitehorse.
· Program distribution to Council customer service centres.
· Program distribution to special rates shopping centres.
Additional Promotion
· Collaboration with Manningham City Council as their Women in Business Event was at a similar time. Special ticket offers were created to include both of the events and allowed for greater cross promotion with competitors in collaboration.
Registrations
Date

Event

Attendance

Thursday 8 August

Whitehorse Business Week Launch and Networking Event

67

Monday 12 August

China Insights with Tom Parker (Australia China Business Council)

65

Tuesday 13 August

Localism. Mainstreet Australia Victorian Conference

220

Wednesday 14 August

Women in Business Luncheon

194

Thursday 15 August

Biz Day 2019

· Single Touch Payroll (ATO)

· Small Business Mentoring (one-on-one)

· Government information Expo

53

8

6

Friday 16 August

Digital Strategy and Customer Experience for your Business

58

TOTAL ATTENDANCE

671
Registration Source
At the conclusion of the registration process, attendees were prompted with the question, "How did you hear about the event?"
In relation to single source platforms, the WBIZ website was the most selected promotional platform with Down to Business, Whitehorse Leader and Whitehorse News and Whitehorse Business Facebook selected on a similar number of occasions.
The "other" category was the most selected overall category and included responses such as sponsor guests, word of mouth, Small Business Victoria and Whitehorse staff.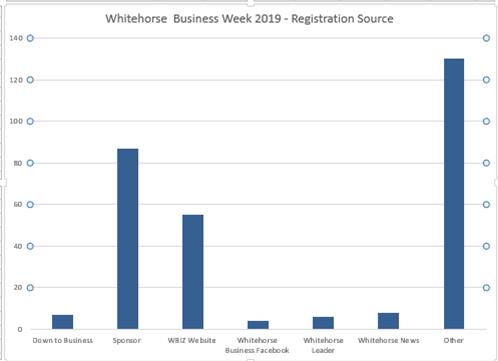 NB: Information displayed represents events where Whitehorse took bookings
Sponsors
The 2019 sponsorship offering evolved from previous years. Feedback from former years indicated that networking was a priority for sponsors. Therefore facilitated networking was introduced as an element of the sponsorship opportunities available to premium sponsors.
Sponsor logos were placed onto a WBW sponsor banners to increase consistency at events and reduce the OH & S risks regarding the transportation of individual sponsor banners.
Future Considerations
Some items to be considered for forward planning include:
· Review the format of WBW to ensure that it allows for business representatives to attend.
· Continue to offer events/workshops/seminars that cater for all different stages of business
· Continue to build partnerships and encourage a larger involvement from businesses, including opportunities to partner with key stakeholders in hosting events.
· Continue to review promotional channels to ensure best spend of marketing dollar.
· Continue to discuss with regional council's about conducting collaborative regional events.
FINANCIAL IMPLICATIONS
Sponsorship
The high profile nature of Whitehorse Business Week provides opportunities for businesses to align with the program of events in a sponsorship capacity.
Sponsorship packages available this year were:
· Premium $2500 ex GST
· Support $500 ex GST
Premium Sponsors

Support Sponsors

Art Series -The Chen

Australia China Business Council

Australian Tax Office

Box Hill Golf Club

Deakin Business School

Light FM

Mainstreet Australia

Quest Burwood East

Saward Dawson Chartered Accountants

Small Business Victoria through Local Events

Aqualink Leisure Centres

Crown Coaches

LDB

Robinson Gill Lawyers

Whitehorse Business Group

Whitehorse Centre

Working Mumma
Sponsorship Summary
| | |
| --- | --- |
| Cash Sponsorship | $12,500 |
| In- Kind Sponsorship | $23,500 |
| Small Business Victoria Local Events - Funding | $10,000 |
| Sponsorship Total | $46,000 |
Cash sponsorship contributed to 51% of the total sponsorship value.
Tailored sponsorship packages were taken up by several sponsors, offering use of their goods and services as 'in-kind' support to assist in the overall delivery of WBW. Examples include:
· Working Mumma (new sponsor), in-kind sponsorship included the promotion and live content creation through Instagram and LinkedIn platforms.
· Australian China Business Council, in-kind sponsorship arrangement event host/ partnership, marketing of events and provision of speaker.
· Light FM, a tailored in-kind sponsorship package including a series of 30 second radio advertisements that were broadcast in the lead up to the program. Additional tickets were negotiated for promotion through digital marketing platforms to increase exposure and reach of the program.
· Quest Burwood East's support sponsorship was elevated to premium sponsorship level due to the use of their facility for the Whitehorse Business Week Launch and Networking Event.
Whitehorse City Council received funding from the Victorian Government's Local Events program that contributed towards Whitehorse Business Week. As a result WBW gained additional and broader promotion via the Local Events Facebook page in addition to the Women in Business Luncheon featuring in their electronic newsletter for July.
Budget Summary (ex GST)
| | | | |
| --- | --- | --- | --- |
| | 2017 | 2018 | 2019 |
| Total Income* | $86,175 | $97,010 | $79,423 |
| Total Expenditure | $78,059 | $82,025 | $52,635 |
| PROFIT/LOSS | $8,116 | $14,984 | $26,788 |
* Total income excludes in-kind sponsorship figures.
The total income in 2019 decreased due to a greater amount of sponsors electing to contribute via in-kind sponsorship arrangements. In-turn, this resulted in a reduction in the total expenditure as the goods and services of the sponsor were utilised (i.e.: marketing/ promotion and catering discounts).
Both the China Insights lunch and Mainstreet Conference did not result in any ticketing income for Whitehorse as it was retained by the partnering organisations. These events were both fabulous opportunities to strengthen relationships with these organisations and showcase Whitehorse as a municipality. Mainstreet Conference was a once off opportunity for Whitehorse and allowed for over 200 attendees to experience the region.
The review of marketing and promotional channels in addition to collaboration with other organisations and entities contributed to the reduced expenditure and therefore increase in overall profit.
It is envisaged that the funds resulting from Whitehorse Business Week will be used to secure a high caliber of keynote speakers for future events.
POLICY IMPLICATIONS
The Whitehorse Economic Development Strategy (EDS) 2014-2019 expands on the City of Whitehorse Council Plan 2017-2021 and in particular, Strategic Objective 5: "Support a Healthy Local Economy".
EDS 2014-2019 states core areas of activity that Council has a clear mandate to act within to facilitate economic opportunities and advocate for local business communities to ensure positive economic development outcomes. These four areas include:
· helping business grow and prosper;
· responsible leadership and advocacy;
· facilitating connections;
· promoting sustainable development.
WBW is designed to act on these areas and in turn make a contribution to the economic sustainability and employment growth within the City of Whitehorse.
WBW Key Objectives:
· provide key information to assist business growth and investment;
· to build on Council's database of local businesses;
· provide access to current knowledge and business trends through a high calibre of speakers and events;
· provide access to services for more personalised business and investment information;
· to connect businesses through networking opportunities.
CONCLUSION
The benefits of WBW to the business community continue to be significant. Sponsors of WBW are promoted throughout scheduled advertising and have the opportunity to facilitate connections with businesses and representatives.
WBW offers an avenue for businesses to grow through the access to business information and an opportunity to expand knowledge for local businesses to grow and prosper.
WBW assists to raise the profile and services of Council's Investment and Economic Development (I & ED) Unit and further builds on partnerships and working relationships between Council, government organisations/ departments and the business community.
Attendees have the opportunity to connect with Council's I & ED staff and learn more about the support and services available, discuss matters of interest, express any concerns and provide feedback.
APPENDIX
2019 Sponsorship Summary
Sponsorship (Cash) Note – amount not including GST
Type

Company

Investment

Premium

Art Series – The Chen

$2500

Premium

Australian Taxation Office

$2500

Premium

Deakin Business School

$2500

Premium

Quest Burwood East

$500

Premium

Saward Dawson Chartered Accountants

$2500

Premium

Small Business Victoria Local Events

$10000

Support

Crown Coaches

$500

Support

LDB

$500

Support

Robinson Gill Lawyers

$500

Support

Whitehorse Business Group

$500

CASH SPONSORSHIP TOTAL

$22,500
Sponsorship (In kind)
Type

Company and In-Kind details

$ Amount

Premium

Australia China Business Council- event host/ partnership, marketing and provision of speaker

$2500

Premium

Box Hill Golf Club- discounted catering cost

$2500

Premium

89.9 LightFM- 10 sec advertisements

$5000

Premium

Mainstreet Australia – event partnership, marketing and provision of speaker

$10000

Premium

Quest Burwood East – use of venue for event

$2000

Support

Aqualink Leisure Centres – 5 x Multipass Swim vouchers and 1 x 12mth total fitness membership

$500

Support

Whitehorse Centre- theatre subscription package voucher

$500

Support

Working Mumma – promotion and marketing of Whitehorse Business Week , in particular Women in Business

$500

IN-KIND SPONSORSHIP TOTAL

$23,500